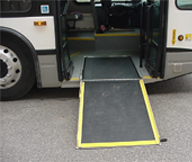 CUSTOM FABRICATED
---
If our standard 1 to 6 model does not suit your needs, Calmo can custom design a ramp for your application.


Learn more >
TRANSIT INDUSTRY SOLUTIONS
---

Calmo manufactures access ramps for low floor transit buses for over tweenty(20) years.

Our latest 1:6 low profile ramp can be adapted to fit your bus frame. Length and width to your specifications. It conforms to the latest ADA and APTA guidelines, DOT regulations and CSA D435-02.

The patent pending ramp mechanism uses no chains, no linear guides, no rollers, no cams. Stainless steel and aluminum components are driven by the compact power of hydraulics and sensors designed for extremes. Everything pivots effortlessly on high-performance polymer spherical bearings.

Our market is the transit bus industry and the development of other bus sub-systems (electric cooling, doors, seats, bike racks, etc.) is also possible.

---

For design and development services, visit the webiste of our sister company Fédico Inc.

Learn more >